March 7, 2004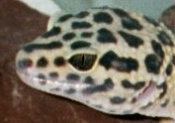 Welcome to the Leopard Lounge!
This site is about sharing our knowledge with each other - about Leopard Geckos, guitar for guitar players, and about Windows 9x.
Check out the Menu on the left. We have two forums, the Leopard Gecko Project forum and the Guitar Players Web forum - the Guitar Players Web forum is off the Leopard Gecko Project forum.
There is a Leopard Gecko Care Sheet, some bookmarks, and two blogs - the Leopard blog is obviously about Leopard Geckos, and Grog's Win9x Blog is for Windows 95/98 tips. There is also a Leopard Gecko FAQ, a Photo Gallery, and you can e-mail me here or from the button at the bottom of the menu.
So the new content here comes from two places, in addition to what I add: from members in the forums and from me in the blogs. I am also working on a new care sheet.
We will offer more new content as it becomes available, perhaps a chat.
Steven Groginsky, Webmaster